More than 1,400 frogs and toads saved on Denbighshire road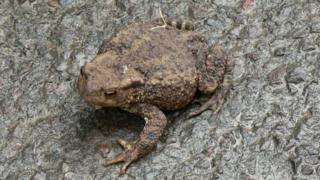 Volunteers have saved 1,437 frogs and toads by helping them cross a busy road in Denbighshire.
Every year, hundreds of the amphibians die crossing the A525 at Llandegla as they travel to their ancestral breeding ground.
But, over three weeks in April, helpers co-ordinated by Vicky Knight carried them across the road at peak traffic times.
Despite their efforts, 707 frogs and toads were found dead in the area.
Ms Knight, who works for the Clwydian Range and Dee Valley Area of Outstanding Natural Beauty, led the volunteers as they tried to save the animals.