Flintshire council left with £40m potholes bill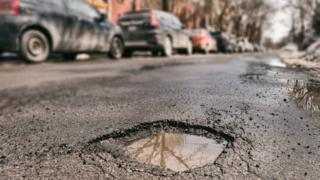 A difficult winter has left Flintshire County Council with a road repair bill of £40m and more than 4,000 potholes, according to a councillor.
The sum was revealed at a meeting on Tuesday after the county was hit by heavy snow and ice earlier this year.
Around £2.7m is needed to keep the highways in their current condition.
Chief Officer for Streetscene and Transportation Steve Jones said the fastest way to fix the problem is to temporarily fill the potholes.
Crews have been called out to carry out repairs on 160 occasions so far this year, compared to 70 the previous year.
Approximately 30 resurfacing works are set to take place between now and the end of September to deal with faults on the road network.
"It's necessary for us to repair safety related defects as soon as possible and the best way to do that is the temporary filling of potholes," Mr Jones said.
"In response to the significant weather in December we increased the number of crews responding to defect repairs."
Flint Trelawny councillor Vicky Perfect said she had been approached by a number of residents concerned about the number of potholes in the area.
"I always tell people how the Beatles wrote a song in 1966 which says there's 4,000 holes in Blackburn, Lancashire and I think that there's actually more than that in Flintshire," she said.
Councillor Carolyn Thomas said she is lobbying for more funding to deal with the issue.
"We've got £2m to do these schemes, but we could do with more money," she said.
Councillors voted in favour of approving the scheduled resurfacing works in order to improve the county's worst affected roads.