Arla Llandyrnog Creamery: 97 job losses 'devastating'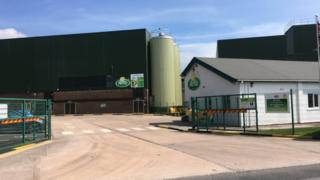 The loss of 97 jobs at a creamery in Denbighshire is a "devastating blow", an MP for the area has said.
Danish-based dairy group Arla said cheese production at Llandyrnog Creamery would end as it cuts 154 posts around the UK and 195 across Europe.
Arla said the cuts came following a wide review of its cheese business.
Vale of Clwyd MP Chris Ruane said he would do "everything possible" to ensure a future for the plant, which has been on site for nearly a century.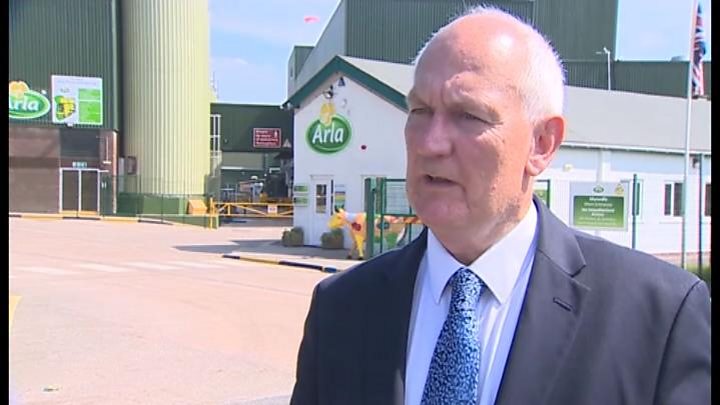 Denbighshire council said it was "disappointed" and would be asking to meet representatives from the company as soon as possible.
An Arla spokeswoman said the factory would close by the end of the year, with a phased redundancy programme and production would move to other UK sites.
Workers were told the news on Tuesday morning and consultations with union representatives were expected to being immediately.
One staff member, who has worked at the creamery for 17 years and did not want to be named, said he was "gutted" at the news.
"I'm gutted for the area and I'm gutted for myself," he said.
"There's been rumours for months, but they (Arla) wouldn't say anything.
"It's not looking good. There's a lot of staff at risk of redundancy. A lot of them are local to the area."
The company will retain the site and five people will be kept on to maintain it while the company considers what to do with it.
The plan would also see the closure of its smaller packing operations in Malpas, Cheshire, and Lockerbie, Dumfries and Galloway.
A spokesman for trade union Usdaw, which represents many of the staff at the creamery, said: "The company's announcement to diversify cheese production and improve efficiencies comes following a significant contract loss as margins in the dairy sector continue to be pressed.
"The result of this drive for lower prices is seen in the drastic action Arla now believes it needs to take and the devastating impact this will have on staff affected by the proposals."
Welsh supplies
In a statement, the company said it had "identified a substantial opportunity to diversify its cheese production" and "improve efficiencies".
It continued: "Arla is announcing a proposal to cease production at its Llandyrnog creamery while potential opportunities for the production of other products are explored further.
"Under these proposals, Arla does not anticipate any impact on its supply of Welsh milk and will endeavour to produce its current portfolio of cheeses dependent on demand from its retail or foodservice customers."
Arla Foods UK managing director Tomas Pietrangeli said: "We recognise that this will be a difficult time for all those colleagues impacted by these proposals and our priority right now is to support them to manage this situation as best we can.