Minera quarry in Wrexham opens as nature reserve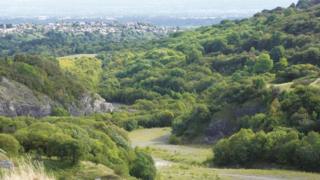 A former limestone quarry has opened to the public as a nature reserve after conservationists spent six years helping nature reclaim the site.
Tarmac, the former owners of Minera quarry, gave £100,000 to help North Wales Wildlife Trust and supporters to turn it into a nature reserve.
The site was worked for more than 200 years before operations ceased in 1994.
North Wales Wildlife Trust boss Frances Cattanach said the reserve would be enjoyed for "generations to come".
The reserve is home to habitats including wildflower-rich meadows and parts of it have been designated a Site of Special Scientific Interest.