Technology brings St Asaph Cathedral's history to life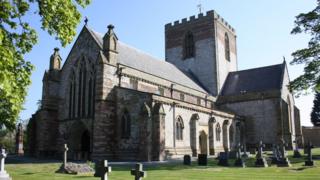 Technology is being used to bring the history of one of the oldest cathedrals in Wales to life.
Visitors will be able to delve into the past at St Asaph Cathedral, in Denbighshire, through interactive displays.
It comes after a £600,000 project, including the building of a new tea room, finished after five years of works.
It is hoped the modern facilities will attract more people to the cathedral.
The displays tell the story of how the cathedral, which dates back to the 13th century, was rebuilt after burning down, and its role in preserving the Welsh language.
Visitors will be able to read one of the only known 20 copies of Bishop William Morgan's 1588 translation of the Bible into Welsh - using an interactive screen to turn the pages.
The Dean of St Asaph Cathedral, the Very Reverend Nigel Williams, said the facilities had been a long time coming and he was "delighted" they were finally open.
"These two projects coupled together, will hopefully attract a greater number of visitors to the cathedral and to the second smallest city in Britain, but more than anything else ensure that the cathedral is a place of worship which proclaims the Christian faith in a way that is relevant in our time," he said.