Wrexham budget cuts 'could hit disabled people's jobs'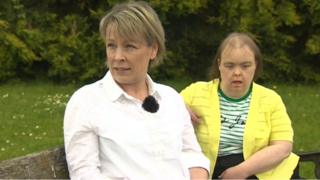 Parents and carers fear disabled people could lose their jobs because of possible changes to a work placement scheme run by Wrexham council.
Its provides 65 people with learning difficulties unpaid work placements in council-run services such as a cafe.
A council review estimates closing the service could save it £460,000 by 2020.
It said it was consulting on its review but one woman, who cares for her sister with Down's syndrome, said work made her feel "she's doing her little bit".
Karen Hughes, from Holt, is concerned that, if it is scrapped, workers like her sister Helen, 41, would struggle to find employment elsewhere.
The council's Day and Work Opportunities scheme currently provides placements in laundry services, portable appliance testing (PAT) as well as catering.
---
Karen and Helen's story
Karen Hughes cares for her sister Helen, 41, who has Down's syndrome and works at the Alyn Waters cafe three days a week.
She said: "Eighteen months ago, mum died and I became Helen's carer.
"We're all very much a working family... and Helen working at Alyn Waters gives her a sense of identity which makes her feel part of our family - that she's doing her little bit.
"If she does lose her job, Helen will lose her independence, her self-worth, and this is why it is important that Helen remains at Alyn Waters."
Ms Hughes said closing the service may cost the council more because it could end up having to provide support care.
"The future is looking quite bleak for disabled people in Wrexham," she said.
---
The council said individuals were not in paid employment but they do receive a bonus payment paid by the local authority.
A spokesman said proposed changes would see a reduction in management posts within the service which would achieve savings along with reducing the need for support.
Councillor Joan Lowe, lead member for adult social care, said the review was part of the authority's budget cuts, and concerns and feedback would be considered before any decision was taken.
The authority has previously said it needs to save £13m in the next two years.
Ms Lowe added: "We fully recognise the anxiety that this review and any potential changes will cause for individuals and their families.
"Any changes that are brought forward will be managed sensitively with the people we support."