Flint taxi driver loses appeal against Chester rape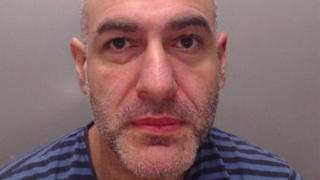 A taxi driver convicted of rape who tried to appeal while he was still on the run has lost his "hopeless" legal challenge.
Sultan Amari, 48, of Flint, Flintshire, fled the UK during his trial at Chester Crown Court in September 2016 for raping a student in the city.
Amari, originally from Syria, was convicted in his absence of two rapes and sentenced to 11 years in prison.
His "unarguable" appeals were dismissed at London's Court of Appeal.
Amari disappeared after giving evidence at his trial, flew to Turkey, and emailed Chester Crown Court saying he would not come back.
'Hopeless complaint'
In emails to the court while still on the run, he complained he should not have been convicted without being present at his trial, and said his sentence was too long.
But judges in London took just minutes to reject his complaints.
Dismissing the challenge, Mr Justice Dingemans said: "This was a hopeless complaint, because he had deliberately decided to abscond."
The court heard Amari picked up the woman after she left a bar in Chester following a night out.
CCTV showed she appeared to be drunk and the court heard all she remembered was being in the bar and then waking up and being held down as she was raped at an unfurnished house.
Amari claimed the woman had initiated sex with him and it was consensual.
Mr Justice Dingemans said Amari had put forward numerous arguments to suggest his convictions were wrong and his sentence too long.
"They all appear to be an assertion that he didn't act wrongly, when the jury was entitled to be sure that he did," said the judge.
"We have been unable to discern any grounds of appeal and we refuse these renewed applications."