Holywell High Street reopens to traffic after 25 years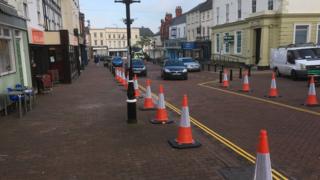 The High Street of a Flintshire town has been opened to traffic for the first time in more than 25 years.
After lobbying from local shop-owners and businesses, Holywell Town Council agreed to run a six-month trial to see if it provides a boost to trade.
It has been pedestrianised since the early 1990s, with only delivery vehicles allowed to drive down it.
Owners of the 80 businesses believe it will attract tourists, but Flintshire council will have the final say.
Councillor Mike Brooke said the current layout of the road as well as poor signage discourages people from visiting the shops.
"You've got a ring-road around Holywell, so unless you are coming into Holywell specifically you could literally by-pass it without knowing the High Street was here," he said.
Reopening the High Street to cars and allowing short-stay parking was championed by Holywell Business Group.
Spokesman Russ Warburton said it was the best way to improve business and attract tourists who visit sites including St Winefride's Well.
He said: "We have so much history round the area, with the well, and we need to get people from the well into the High Street.
"But they need to be able to get transported up and that's what we hope to do."
Following the trial period, locals will be balloted to ask if pedestrianisation should end permanently.
Flintshire County Council will then make the ultimate decision and pay for any road changes.