Ruthin St Peter's Church in 'write on our roof' invite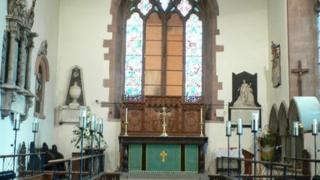 People are being invited to write messages on a medieval church roof as part of a time capsule project.
Ruthin's St Peter's Church is installing a £140,000 roof made using slate from Penrhyn Quarry in Bethesda.
However, the old tiles on the Grade I listed, 13th Century church are still in good condition and will be placed on the inner slopes of the new roof.
Local schoolchildren and visitors will be asked to write a message on pieces of slate at an event over the weekend.
The Reverend Stuart Evans said: "We want people to be as imaginative and creative as possible with their slate so future generations can see and read about our life today."
The work will add a breathable under-felt to the roof, with £90,000 of the cost awarded by the Heritage Lottery Fund and fundraising taking place to raise the rest.