Denbighshire County Council agrees to buy Savoy Hotel in Rhyl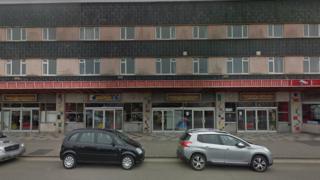 Denbighshire County Council has agreed to buy the former Savoy Hotel in Rhyl as part of the town's regeneration.
The cabinet also approved an option to purchase the Queens Market, theatre and hotel within three years.
Council leader Cllr Hugh Evans said: "The council wants to bring this critical element of the town centre back into productive economic use".
Rhyl is currently undergoing a multi-million pound investment to its waterfront.
Plans for the vacant hotel and amusement arcade include finding a new use for the site.
The council said approval for the purchase was based on grant funding from the Welsh Government and the Welsh European Funding Office.
If this is not forthcoming, the Council said the purchase would not go ahead.
Mr Evans said: "These buildings are substantially vacant and in a poor state of repair and condition.
"We are looking to provide a mix of uses to provide a sustainable and economically viable town centre for the future."