Rhyl 'pop man' stabbing: Two brothers jailed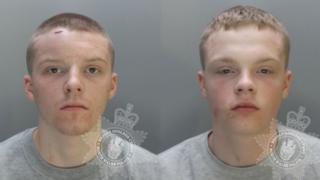 Two brothers have been jailed for stabbing a man as he delivered sweets and soft drinks to customers' doors.
William Clarkson, known as Rhyl's "pop man", was stabbed by 18-year-old Brad Daniels, who was described as having a "fascination" with knives.
Daniels was convicted of wounding with intent and jailed for four-and-a-half years at Caernarfon Crown Court.
His brother Chad, 20, was given 12 years for the same charge and also for slashing his aunt's head.
'Serious violence' spree
He was also convicted of trying to rob a stranger in the street.
The court heard the brothers had had difficult childhoods and when they arrived in the Denbighshire town from Walsall, in the West Midlands, they were determined to "throw their weight around".
They were described as going on a "spree of serious violence" on the day of the incident.
Judge Rhys Rowlands said on the night of 25 August, Brad Daniels had been "going around telling people nobody was going to mess with him".
At about 23:00 BST, just as Mr Clarkson was about to knock on a regular customer's door, he was approached by a man who asked to buy sweets from his van.
As he served him from the back of the vehicle, he heard the front door close, which made him think two men who were walking away had taken something.
He called to them, but they approached him, with one hitting him on the head with an extendable baton, cutting it open, the court heard.
Mr Clarkson then believed he had been punched, but he had been stabbed, causing injuries that would need surgery for a hernia.
Judge Rowlands said Mr Clarkson - who delivered confectionary and soft drinks - was affectionately know as the "pop man".
In sentencing, he said he was "a thoroughly decent man, sadly a very marked contrast to the two of you".