100 objects exhibition highlights north east Wales' history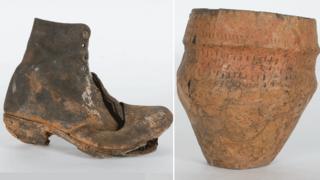 A 4,000-year-old burial urn and a child pit-worker's boot are among 100 objects in a new exhibition to highlight north east Wales' history.
Organisers have spent two years securing permission to bring the artefacts together at Wrexham Museum.
The exhibition looks at early man such as stone tools right up to the latest aeroplane components made locally.
North East Wales Heritage Forum organised the exhibition after securing funding from the Heritage Lottery Fund.
North East Wales in 100 objects
Early inhabitants: Bronze axe head, slingshot, fishing weight, and a Roman tile
Castles and conflict: Medieval weapons, World War One trench knife, munitions factory ID and an air raid bell
Industrial innovation: Copper manillas used in the 18th Century as part of the slave trade, potter's wheel, ship's chains and a pit pony bridle
Travel and transport: River Dee map, coracle and a hovercraft postcard as Rhyl had its own service in 1962
Religion and culture: Medieval manuscript, silver harp, King James Bible and a gold disc earned by Fron Male Voice Choir after choristers secured album deals
Everyday life: Old bottles, football fan's rattle, old photos, straitjacket, bathing suit and holiday souvenirs
Forum chairman Dr Shaun Evans said: "The 100 objects have been selected and grouped to illustrate themes which wind their way through the area's history.
"The result is an outstandingly diverse representation of our region's past, stretching over centuries and including items from every part of our corner of north east Wales."