Redvers Bickley jailed for life for killing housemate Tyler Denton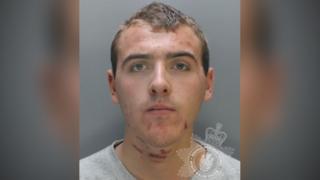 A man who killed his housemate and stabbed three members of her family has been sentenced to life in prison.
Redvers James Bickley, 21, will serve a minimum of 30 years for killing Tyler Denton, 25, after a birthday party at their flat in Rhyl, Denbighshire.
He also stabbed Ms Denton's sisters, Cody and Shannen, and her father Paul, who went to her aid.
The Denton family said after the sentencing that Ms Denton "didn't get the justice she deserved".
Ms Denton had been celebrating the 25th birthday of her partner, Hayley Barnett, on 9 September 2017 when she was stabbed eight times by Bickley.
He started attacking Ms Denton once they returned home, before wounding her sisters and father as they attempted to help her.
Shannen Denton told the court Bickley only stopped when he "thought he had killed her".
Her father was injured as he wrestled the knife from Bickley in the street.
'My family's heart has been ripped out'
In a victim impact statement read out to the court, Paul Denton revealed how he hated himself for not being able to save his daughter.
"I hate remembering that night and having to go through it over and over again," his statement read.
"My family's heart has been ripped out. I will never see her walking down the aisle and getting married or having kids.
"I'm so angry that Tyler's 25 years have been taken for nothing. Words aren't enough."
The Denton family felt it "should have been a longer sentence".
But a statement added: "He's been put away, and can no longer destroy another family, as he has ours. We now have the challenge of rebuilding our lives with a piece of us all missing."
Det Ch Insp Gary Kelly from North Wales Police added Bickley was "infatuated" with Tyler Denton and held a "deep concealed jealousy for her successful relationships with her family and friends".
During the trial, Bickley's defence counsel claimed his responsibility was diminished by an abnormality of mind and was described as a fantasist during the case with "two personalities".
He told police after he was arrested: "I confess to murder," and "if you knew how hard it was to love someone and not have them love you back".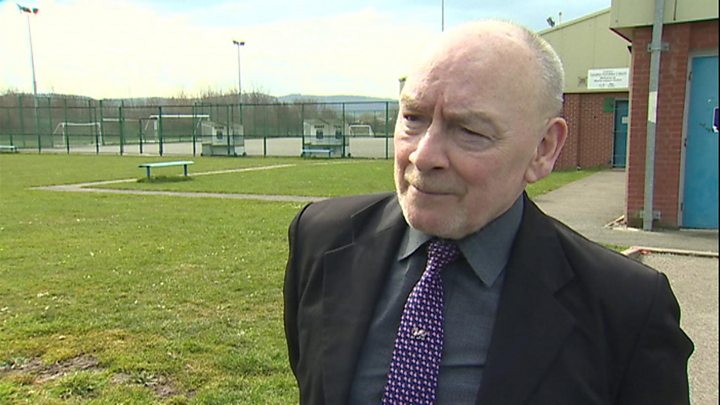 He had been in a sexual relationship with Tyler Denton from 2013 to 2015, but he had only told one friend about it and the pair were not committed.
He told the trial he had "a good side and a bad side" and in the weeks leading up to the murder his bad side - which he named James - "grew stronger and took over".
'I am not sure if I will ever be able to be alone again'
Ms Denton's sister Cody, who was also attacked, was not told of the number of injuries she sustained "as medical staff said that they lost count"
She thought she would "never recover" and still has limited hand and neck movement.
"I still can't be alone anywhere," read her victim impact statement.
"I have never been alone since the attack. I'm scared someone will come and get me and attack me again. I am not sure if I will ever be able to be alone again.
"I can never turn the events of that night off in my head and it's a continual nightmare for me.
"I am her big sister and I could not save her. I tried my best and did all I could but it wasn't enough. I have to live with that every day.
"She was my little sister. I miss her dreadfully. It has devastated all of us. We will never be the same again."
'I am watching my family fall apart'
Sister Shannen said the attack had left her incredibly anxious about her family leaving home "in case anything happens to one of us."
"We are all paranoid for each other thinking about one another's safety," said her statement which was read to court.
Mother Nicola Denton revealed her husband's scars remind her of the horror of the night her daughter was killed.
"I am watching my whole family fall apart," her impact statement read.
She said her sons blamed themselves for not being around, her husband blamed himself, her daughters felt guilty for surviving and she had even thought of ending her life
"My life seems to have turned into an existence and, at the moment, I am unable to see a future without Tyler," she added.