County Lines: Police use street theatre in fight against crime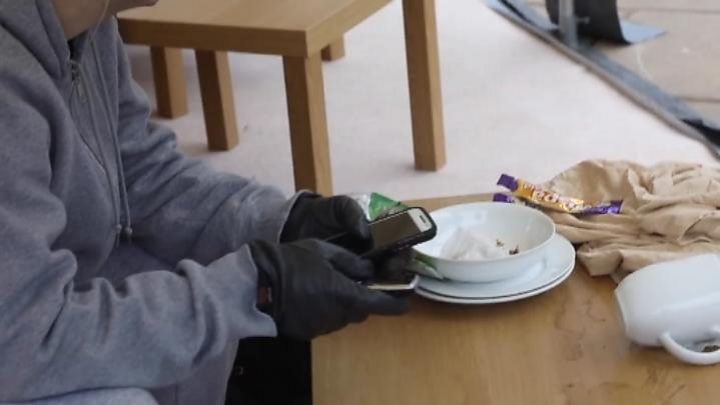 Police have drafted in actors to help their fight against urban gangs that use vulnerable people to traffic drugs.
North Wales Police used street theatre to recreate some real scenarios where people have been exploited.
The event, called County Lines after the tactic used by gangs to move drugs and cash, took place in Wrexham on Saturday.
Officers hope it will help relatives or friends spot the signs that someone is at risk of being exploited.
The actors performed two scenes scripted from real incidents of exploitation by criminals, using two back-to-back sets on Wrexham's Queens Square.
Police were advised using actors and street theatre was more likely to engage people emotionally than more traditional methods.
They hope the performances will have sparked a talking point about the signs and triggers of young people and vulnerable adults being exploited to help export drugs and cash to market and coastal towns and rural areas.
Det Insp Jon Russell of North Wales Police said: "It is aimed at promoting awareness of the hidden exploitation of vulnerable people in our communities.
"We will strive to protect those most vulnerable within our communities."
What are County Lines?
The term describes gangs exporting drugs from urban to suburban areas including county and coastal towns, using dedicated mobile phone lines or "deal lines". Criminals force children or vulnerable people to store drugs and weapons as a base for drug dealing - a process known as cuckooing.
So what is cuckooing?
Criminals will take over the home of adults with mental or physical disabilities, with addictions or who are particularly elderly. They can use debts, intimidation, violence and weapons. Victims have been as old as 90.
The National Crime Agency (NCA) has found growing evidence of County Lines.
A report published at the end of last year estimated there were at least 283 lines originating in London.
County Lines are mainly used to sell crack cocaine and heroin.
The NCA report said a typical line can make about £3,000 per day, with some more prominent lines possibly making more than £5,000.
One police force reported a "drug line/customer base" had been sold for £50,000.
The street performances have previously been held in Liverpool and Morecambe, organised and financed by the North West Regional Organised Crime Unit - called Titan.
Assistant Chief Constable Alan Barr, head of Titan, said: "This event will be an interactive and impactful way to highlight the issue of County Lines to the people of north Wales and how to spot the possible signs that someone you know is at risk of being criminally exploited.
"It can only be combated if the public understand what it is, knows how to spot the signs and knows what to do if they think a person they know is being exploited."
North Wales Police has asked anyone with any concerns or information to contact police on 101 or Crimestoppers on 0800 555 111 .