Fears Tawel Fan ward scandal report will be rejected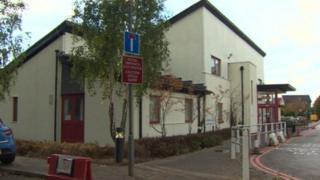 Fears that a report into serious failings at a mental health ward will be rejected by a health board have been raised by families affected.
An investigation into Tawel Fan at Glan Clwyd Hospital in Denbighshire uncovered "institutional abuse".
Now patients' relatives say they have been told Betsi Cadwaladr health board will not accept a report into the failings because "it is not credible".
But the health board said it had not seen the report's contents.
The independent oversight panel (IOP) in charge of the report said no-one could reject it as a draft had not been issued yet.
The health board was placed in special measures as a result of the investigation into the ward, which closed in 2013.
In May 2015, a review by health specialist Donna Ockenden said relatives described patients being kept like "animals" in a zoo, with a string of other allegations found proved.
It upheld claims of patients being nursed on the floor, a lack of "professional, dignified and compassionate care" and practices which may have violated patients' human rights.
Relatives who have previously spoken to the BBC said they have been told that their treatment at Tawel Fan may have contributed to their deaths.
Ms Ockenden was then commissioned to compile a further report into whether governance failures contributed to the failings.
Families of the patients involved reacted angrily when the publication of the report, due on 8 March this year, was delayed with no pending date due to illness.
A second review by the Health and Social Care Advisory Service (HASCAS), looking at the impact on individual patients, has also been held up because of illness.
'Grave concerns'
The latest concerns arose after family members said they were told by a member of the community health council supporting them that Betsi were "not going to accept the Donna Ockenden report because it is not credible".
One said it raised "grave concerns" and "significantly important questions" in an email to the IOP in charge of the report process.
However, Geoff Ryall Harvey, chief officer of the North Wales Community Health Council, said there had been a "misunderstanding" and he had not been told that by the health board.
Chair of the IOP, Jack Straw told the family member in response to their email that he was aware of the concerns but it was not possible for anyone to reject the report as a draft was yet to be issued.
A spokesman for Betsi Cadwaladr University Health Board said: "We commissioned Donna Ockenden to complete this review and look forward to receiving her findings. We understand that the report is yet to be completed.
"The health board has not seen any of the report's content. The Independent Oversight Panel appointed by Welsh Government are overseeing the process leading to the publication of the Ockenden review."
Last November, investigators working on the reports said their initial investigation of 25 complaints had grown to include 108 patient cases.