'Faulty' tumble dryer causes Bodfari house fire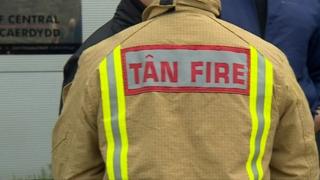 Three people have been treated for the effects of smoke inhalation after a tumble dryer caught fire in Denbighshire.
Firefighters from Denbigh and St Asaph were called to the blaze at the house in Bodfari at 02:58 GMT on Tuesday.
North Wales Fire and Rescue Service said a faulty component in the dryer was to blame for the blaze.
The machine was destroyed and the room it was in was damaged by heat and smoke.
Welsh Ambulance Service paramedics treated the casualties at the scene.
An investigation in 2015 found 5.3 million tumble dryers sold in the UK over an 11-year period were in danger of causing a fire and needed to be made safe.