Historic Ruthin building could become community hub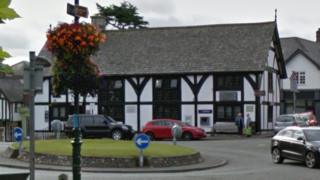 Ruthin town council is working on plans to buy one of the town's historic timber-fronted buildings.
Since the closure of the local NatWest branch last year, the old courthouse on St Peter's Square has been empty.
But the council is hoping to turn the building, which is up for sale, into a community hub.
It follows Denbighshire council's decision to shelve plans to move the town library from its current premises.
The town council hopes that the old courthouse, built following Owain Glyndwr's rebellion in the 15th Century, can become a space to promote local businesses and attractions and house some of the historic artefacts belonging to the council.
Town councillor Gavin Harris said: "We hope that NatWest lends its support to Ruthin and its people's will to own this building, to buy it and develop it for the benefit of the town."
In April, Barclays bank will also shut its Ruthin branch, leaving another empty space on the town square.
Concerns about having too many vacant historic buildings were a factor in the county council's decision not to relocate the library from its current 18th Century premises to County Hall.
The move could save the council £45,000 a year but, according to cabinet member Huw Hilditch-Roberts, that depends on the sale of the listed building.
"Personally, I think that it's more important to make sure a building like this one is being used, is busy and booming, so that it's not decaying on the side of the road," he said.
Denbighshire council will review its stance in 12 months' time.
The town council will reveal detailed plans for the old courthouse later this year.