Mother pleads guilty to murder of seven-week-old son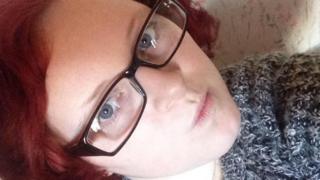 A woman has admitted murdering her baby son after changing her plea halfway through her trial.
Hannah Turtle, 22, from Shotton in Flintshire, suffocated seven-week-old James Hughes in 2016.
She stopped his breathing on two other occasions before she killed him - both times he was revived in hospital.
Turtle also admitted five other child cruelty charges and administering James with an adult antidepressant at Mold Crown Court on Tuesday.
Turtle - who claimed she had heard voices telling her she was a bad mother - sat in the dock crying as the jury was discharged by Mr Justice Lewis.
Prior to her guilty plea, prosecutor David Elias QC said Turtle accepted she stopped James breathing on three occasions within a 10-day period.
"We may never know why exactly she did this," Mr Elias had said.
James was taken to the Countess of Chester Hospital and kept in for observations, but the prosecution said he stopped breathing while Turtle was alone with him.
He was admitted to hospital on two other occasions in the days before his death after Turtle pinched his nose to restrict his breathing.
On 9 June 2016, she suffocated her son again but this time he did not recover and died in hospital on 13 June from brain damage due to oxygen deprivation.
Gordon Cole QC, defending Turtle, said the jury had not heard psychiatric evidence but said post-natal depression was an issue in the case.
The court heard while Turtle had no mental illness it had been agreed she suffered from a personality disorder.
The judge said he had to impose a life-sentence for murder but he needed to fix the minimum term she should have to serve, and one of the key issues he must consider was her culpability.
Turtle, who also admitted putting her own anti-depressant drug in his milk bottle, will be sentenced on Thursday.