Flintshire Scouts' rates review call backed by councillors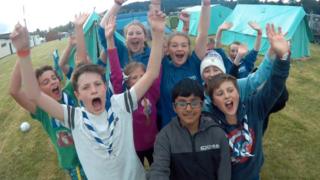 Scout groups could avoid having to pay business rates after councillors backed a call for a U-turn in policy.
A petition supporting Flintshire Scouts, who wanted the decision reversed, was signed by 10,500 people.
The discretionary rate relief policy changed in April, leaving Scout groups with a bill of up to £570 a year, but on Tuesday, councillors backed a motion giving rate relief to certain groups.
Scouts district commissioner Richard Hebden said it was "a big success".
At present, Flintshire's Scouts group now pay 20% towards their rates - varying from £150 to £570.
Among those who backed the call to scrap the charge was Chief Scout Bear Grylls, who said the move was "not right".
At a meeting on Tuesday, councillors backed a motion to give business rate relief to organisations using premises with rates of less than £6,000.
It is not known whether the council would be able to retrospectively reinstate the relief for the current financial year if the plans go ahead.
Mr Hebden said: "It's very positive news. It [the campaign] got massive traction very quickly and got people talking.
"I'm very pleased with the outcome - groups are constantly raising money so another £500 is very difficult.
"Our focus is getting the kids doing things, being adventurous, having fun - we don't want them spending their entire time fundraising."
A report will go before a full council meeting in February, ahead of a final decision.
Flintshire council is also going to write to the Welsh Government asking for the matter to be addressed in legislation.