Flintshire Scouts launch petition over rates change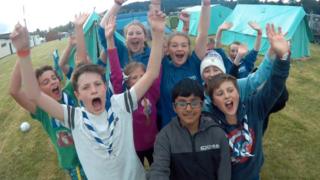 More than 6,500 people have signed a petition calling on Flintshire council to reverse its decision requiring 16 Scout groups to pay up to £570 in business rates year.
The council changed its discretionary rate relief policy in April, affecting charities and sports groups, to help with its own budget shortfall.
Chief Scout Bear Grylls pledged support for Flintshire Scouts' campaign.
The council said a hardship rate fund was available to qualifying groups.
The petition is due to be presented to the next full council meeting later this month.
The county's Scouts group now pay 20% towards their rates varying from £150 to £570.
Grylls tweeted: "I know councils are under pressure but it's not right that Scout groups should be targeted by removing the 20% discretionary funding relief."
Flintshire Scouts district commissioner Richard Hebden said the local authority should be supporting such groups and not penalising them.
He said the financial "impact" could mean an increase in subscription fees, or a reduction in activities provided to its 900 members.
Council chief officer Clare Budden said: "Early in 2017 the council contacted organisations expected to make a 20% rate contribution from April 2017 and signposted charities and voluntary groups to apply for hardship rate relief if there is genuine financial hardship meeting the 20% business rate payments."
Gareth Watson, chief commissioner for Scouts Cymru, said groups in Newport had also experienced the same issue.
He said: "On top of the possible funding cuts following current Welsh Government reviews at a national level, our groups are now being "hit" again by some local authorities, this is adding extra pressure to our volunteers locally, who are asking how they are going to find the extra money and to continue to provide the activities that young people are desperate."