Liam Hill inquest: Open conclusion follows Rhyl murder probe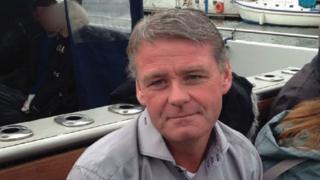 It is impossible to conclude whether a man was assaulted or had a fall leading to his death, an inquest has heard.
Liam Hill's body was found at his flat in Rhyl, Denbighshire, in January 2016, initially prompting a murder inquiry.
A post mortem examination showed he had multiple injuries, including a large impact injury on the top of his head, fractured ribs, bruising to his body and swelling of the brain.
Coroner John Gittins recorded an open conclusion at the inquest at Ruthin.
Home Office pathologist Dr Brian Rodgers told the hearing that some of the injuries were "difficult to explain".
He said he had been concerned about their distribution, and had advised police that the case should be "looked at as a potential murder until proved otherwise".
Blood on stairway
Even though multiple falls in an intoxicated state could possibly explain some injuries, the pathologist said he still had some concerns.
Demi Jones, a former sergeant and now a civilian investigator for North Wales Police, told the hearing that officers had "exhausted" investigations but that the case was "not closed".
CCTV footage showed Mr Hill, 44, leaving a Rhyl bar at about 18:30 GMT on 6 January.
Witnesses at his flat later reported seeing him slumped inside the front door, and he told one he was drunk and had fallen.
Some of his blood was discovered on a stairway, but police were unable to date it forensically, the hearing was told.
The cause of death was given as head and chest trauma.
Mr Gittins said he could not be certain that Mr Hill was assaulted and that there was insufficient evidence to suggest it was an accident.