Red squirrel home hope for Clocaenog Forest, Denbighshire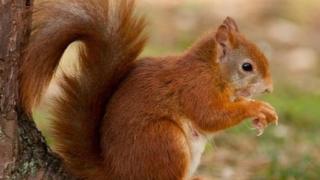 Volunteers at the latest forest to spot red squirrels are hoping to use their appeal to attract new visitors.
The native squirrel had been virtually wiped out in Wales - with just small populations clinging on in parts of Anglesey and Ceredigion.
But following a conservation effort to tackle non-native American grey squirrels, the reds are beginning to thrive.
Now the Clocaenog Forest near Ruthin in Denbighshire hopes it can benefit.
Volunteers at the forest are working with the Red Squirrels Trust Wales on a Heritage Lottery Funded project called "Red Squirrels United".
Ranger Becky Clews-Roberts said they were still trying to establish exactly how many reds have made Clocaenog their home.
"We know there are very few animals... we've got these trail cameras but that only indicates presence-absence," she explained.
"The aim of the Red Squirrel United project is to halt any further decline and to see those numbers increasing."
She said that would be down to habitat management, providing the right kinds of food and cover for the red squirrels.
The success story on Anglesey and places like the Tywi Forest near Tregaron has given Denbighshire something to aim for, but volunteers know it will not happen overnight.
However, Sarah Jones, a blue badge tourism guide in the county, said the potential for attracting visitors could be huge.
"This is one area that would interest many, many people, not in the future even, but now as people like to see what's going on," she added.
"I remember as a child living here in Denbighshire, we saw them every day in the garden. I would love to see that sort of situation come back again."