Buckley pensioner died after feeding tube put in lung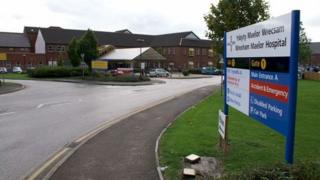 A feeding tube placed in a pensioner's lung instead of his stomach led to his death, an inquest has heard.
Former semi-professional footballer Ernest Margerison, 86, died at Wrexham Maelor Hospital in October 2015, 15 days after fracturing his hip.
A Ruthin inquest heard a tube to boost his nutrition was re-inserted in the wrong place after it was pulled out.
Coroner John Gittins recorded a conclusion of misadventure.
Retired fitter Mr Margerison, 86, of Buckley, Flintshire, had fallen at home and after surgery, was making a good recovery, his daughter Carol Gregson said.
The inquest heard how nurse Charlotte Pierce re-inserted a nasogastric tube, with Mr Margerison's help, but an X-ray later revealed it had been mistakenly placed in his lung.
"I can only apologise for what happened," she said.
Consultant physician Walee Sayed said he did not know of any similar misplacements since Mr Margerison's death.
'Never event'
His death was treated as a "never" event by the Best Cadwaladr University Health Board, and senior officials explained measures have been taken to prevent a repeat.
Nutrition nurse specialist Paula Edwards said there were now more formal systems for recording decision-making on the use of tubes and nurses were more able to challenge the decision of doctors.
The cause of death was given as pneumonia due to a misplaced nasogastric tube, with the fracture a contributory factor.
Recording his conclusion, coroner John Gittins said: "I know it was classed as a 'never' event but sadly we recognise that occasionally things do go wrong.
"It should not have happened but it did."
He praised the health board for taking swift action to improve matters and said he did not feel he needed to issue a Regulation 28 report to prevent future deaths.