Amarjeet Singh-Bhakar: Two admit killing Rhyl shopkeeper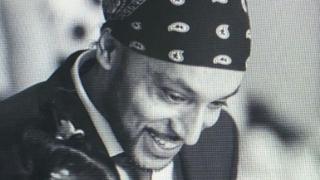 Two 16-year-old boys have admitted stabbing a Denbighshire shopkeeper to death.
The youths, who cannot be named for legal reasons, killed Amarjeet Singh Bhakar following a disturbance in Rhyl in April.
They were initially charged with murder but pleaded guilty to the lesser charge of manslaughter on Thursday - a plea accepted by the prosecution.
They have been remanded in custody to be sentenced on 6 November.
Another youth and five other men admitted playing a part in the violence.
Mold Crown Court previously heard Mr Singh-Bhakar, 37, originally from Manchester, died after a disturbance on Prince Edward Avenue on 30 April.
He was said to have been stabbed to death during an organised fight between two gangs, one from Rhyl and the other from Manchester, which the prosecution said was over the supply of cannabis in the town.
The two defendants also pleaded guilty to threatening behaviour as well as wounding the victim's cousin, Amar Bahakar Singh, who suffered facial injuries.
At the hearing:
Another 16-year-old from Manchester pleaded guilty to violent disorder. He was bailed pending sentence
Mohanjeet Singh, 18, of Manchester, the younger brother of the victim, admitted violent disorder
Amar Bahakar Singh, 28, of Manchester, a cousin of the victim, admitted violent disorder
Daniel Kenneth Swann, 44, of Rhyl, admitted violent disorder and possessing an imitation firearm with intent to cause fear of violence
Ameer Wahid, 24, of Chorlton, and Sanah Ullah, 31, of Manchester, admitted threatening behaviour and were sentenced to 10 and 11 months respectively. It was not suggested they were involved in the supply of cannabis