Roman artefacts the target of Oakenholt excavation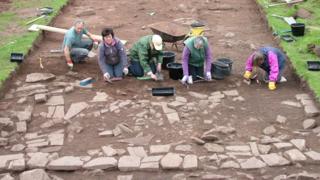 A four-day excavation searching for evidence of Roman life begins in Flintshire on Saturday.
Previous digs in the Oakenholt area have found remains of Roman roads, buildings, furnaces and coins.
Clwyd Powys Archaeological Trust (CPAT) is hosting the event and encouraging the community to take part.
The best finds from the dig and others in the area will be displayed at the Oakenholt Bowling Club.
Alex Sperr, from CPAT, said: "In the 70s there were excavations nearby which unearthed evidence of rich settlements.
"We are looking for similar settlements either side of the road running through Oakenholt."
Schoolchildren, scout groups and budding archaeologists have already signed up to participate in the excavation.
CPAT and Greenfield Valley Heritage Park will also be hosting extra activities in the area.