Newsquest 'must invest' in Wales after takeover, union says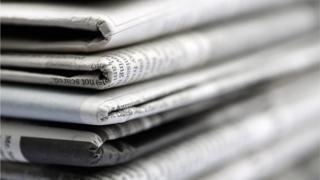 Newsquest "must invest" in Welsh newspapers following a takeover of titles in north and mid Wales, a union has warned.
The firm took over NWN Media, a publisher based in Mold, Flintshire, which employs about 300 people.
The NUJ said the firm must "reassure staff" their jobs were safe at titles including the Rhyl Journal, Flintshire Leader and North Wales Pioneer.
Newsquest said it intended to develop NWN Media.
The NUJ said it was concerned for the future of the newspapers, saying American-owned Newsquest was buying up titles at an "alarming rate" while making staff redundant.
Earlier this year the company announced plans to close its sub-editing hub in Newport, with the loss of 14 jobs.
John Toner, NUJ Welsh national organiser, said: "Their brutal treatment last Christmas of the sub-editors employed at Newport is still fresh in the memory in Wales.
"We urge the company to reassure staff that their jobs are secure and that there is no threat to terms and conditions."
A Newsquest spokesman said: "We have bought NWN Media to grow it and to be able to carry on sustaining great local journalism."