Autistic man 'refused help' on train calls for awareness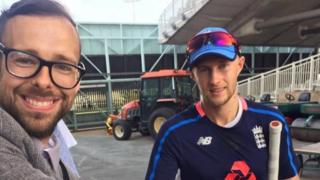 A man with a severe form of autism who was told he could not board a train by a guard is calling for more awareness of the condition on public transport.
Andrew Edwards, 32, from Wrexham, travelled to Lord's cricket ground in London with his nephew on the train.
But he said he was left distressed as he tried to get home after a "rude" guard did not help him with his ticket and the train left without him.
Virgin Trains said it had contacted both customers to apologise.
Mr Edwards told BBC Wales' X-Ray programme his autism can leave him easily stressed and he has obsessive behaviours, which can "lead to meltdowns".
One of his passions is cricket and when he decided to travel to Lord's to watch England v South Africa, his 21-year-old nephew, Louis Beckley, agreed to go with him to act as a carer.
The pair bought train tickets in advance in the form of M-tickets - tickets on a mobile phone - with Mr Edwards admitting: "Planning is very important, because with autism you have to plan. I don't like the unknown."
They said the journey from Chester to London went well, but their return did not go so smoothly, despite arriving at Euston station an hour and a half early.
When they tried to board their train, they handed Mr Edwards' phone to the Virgin Trains guard, with their journey details displayed on the screen.
But they said the guard was "very rude and unhelpful", insisting he could not see a valid barcode on the M-ticket.
Mr Edwards explained he had autism and asked for extra assistance to activate the ticket, but the guard refused to help.
'Respect and dignity'
Mr Beckley said: "Uncle Andrew was very stressed, inconsolable once he realised that they weren't going to let us on the train."
Mr Edwards, who lives in Gwersyllt, added: "I said to the guard that was rude to us, 'I want to go home, I want to get home and see my mum'."
The pair rushed to the ticket office where they were given help to activate the ticket on the phone. But, having missed their train, they then had to pay £110 for new tickets.
Mr Edwards said he was not given the respect, dignity and support that train companies are supposed to give to disabled passengers.
"There's loads of people with autism out there and the thing is, it's more understood in a lot of quarters than it's ever been, but there's so much further to go," he added.
A Virgin Trains spokesman said: "They will both be refunded in full and offered an additional gesture of goodwill so we can restore their confidence in travelling with us."
Rail companies operate a system called JourneyCare for passengers with additional or special needs.
It allows people to register their details and any help they require, so companies can make the necessary arrangements.
X-Ray is on BBC One Wales at 19:30 BST on Monday, 2 October