Fatal Llangollen mountain bike race officials deny charges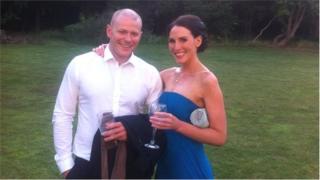 The organisers of a mountain biking race in Denbighshire have pleaded not guilty to a variety of charges in relation to the death of a spectator.
Judith Garrett, 29, of Prudhoe, Northumberland, died after a bike hit her at the Borderline Downhill Series event in LLangollen in August 2014.
Two race officials and the British Cycling Federation faced health and safety charges at Mold Crown Court.
A four week trial is expected to take place in June next year.
Miss Garrett was airlifted to hospital after she was hit by an "out of control" bike as she watched her boyfriend Peter Walton compete in the race on 31 August, 2014 at Tan y Craig Farm.
She died the following day at the University Hospital of North Staffordshire in Stoke having suffered major head injuries.
The charge against the British Cycling Federation - which sanctioned the race - alleges that it failed to conduct its undertaking in such a way as to ensure the health and safety of people attending.
Race official Michael Marsden, 40, of Lancaster, is alleged to have failed to conduct the event in such a way that people including Miss Garrett were not exposed to risk.
It is alleged that he failed to ensure the safety of spectators at the competition and failed to provide marshals with adequate training regarding the safety of spectators.
The final charge against him alleges that he failed to report the death of Miss Garrett at the competition.
A marshal, Kevin Ian Duckworth, 41 of Accrington, Lancashire, is alleged to have failed to ensure that his health and safety duties as a marshal were complied with.
Mr Duckworth and Mr Marsden were given unconditional bail.