Wrexham Groves school rough sleepers camp cleared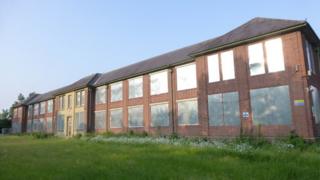 A former school site in Wrexham, where a number of homeless people had set up camp, has been vacated.
Around 20 people, some of them drug users, had been camping on the site of the former Groves school over the summer.
The Wrexham Community Safety Partnership said it was in the process of clearing and securing the area to prevent any future settlements.
Wrexham council previously said it would temporarily tolerate the camp.
Drug problems in the town came under the spotlight in March, when photographs appeared of people in zombie-like states at the town's bus station.
In August, the council's deputy leader Hugh Jones urged people not to donate food directly to the camp, as it could be sold to buy drugs.
A statement by the community safety partnership - an agency set up to reduce crime and anti-social behaviour, and whose partners include the council, police and local health board - said any remaining equipment, drug paraphernalia and rubbish would be removed from the site by 29 September.
"Nearby CCTV cameras have been redirected to cover the former camp, and signage notifying the public of CCTV surveillance will be installed," it said.
"Council security teams will continue to patrol and monitor the site."
A fence will also be erected to secure the area.
"Extensive profiling has enabled us to offer support packages to a number of people that were spending time on the Groves site," the statement added.
"We've made positive progress with a number of these individuals and they are in the process of accessing support."
Cllr Hugh Jones said many of those living on the site had already moved on their own accord.
"I've previously stated that the Groves site would be tolerated only for temporary use - it was never intended to be a long-term site and as such we were prepared for it to empty over time," he said.
"The purpose of the camp...was to get vulnerable people engaged at a service level, so they could be supported on to a lasting route to recovery."