Denbighshire couple jailed for 'cruel' toddler attack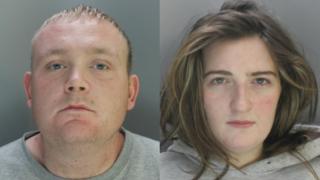 A man has been jailed for five and a half years for attacking a defenceless toddler in his care.
Nicholas Lessiter, 26, from Rhyl was led to believe by his girlfriend that the 20-month-old was his son.
But Mold Crown Court heard Rebecca Barnes, 22, from Ruthin, was only looking after the boy for a few days last April. She was jailed for two and a half years.
They both admitted child cruelty offences.
Lessiter was charged with causing the injuries and Barnes with being aware of them and not seeking medical attention for the boy.
The child had a broken collar bone, bruising to his whole body, and human bite marks.
The injuries were said to be so extensive that the boy was unrecognisable when he was returned to his mother.
Representing Lessiter, Owen Edwards said his client's "limited capacity must have played a part in the offending" and that he had been subjected "to the most cruel of deceptions" by his girlfriend.
Sadistic elements
Barnes' defence solicitor Matthew Curtis said she was a complex character who knew she should have protected the boy.
He told the court she had been subjected to domestic abuse and had a condition which helped her disassociate herself from what was going on.
Sentencing the pair, Judge Niclas Parry said there was "no greater responsibility than to protect helpless and defenceless children".
He said there were elements of their behaviour that were sadistic.
The court heard that the child appeared to have made a full physical recovery.
"One hopes that he will never come to know about the cruelty inflicted upon him," added Judge Parry, "but the psychological harm will never be known."
The couple was given a lifetime restraining order which prevents them from contacting the victim, his mother or her new partner.