Wrexham drug detox bed wait 'hugely damaging'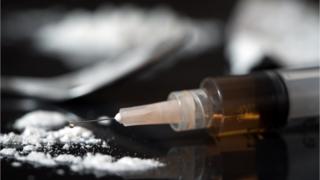 People seeking help for drug and alcohol addiction in north Wales are facing a five month wait, Plaid Cymru has said.
The Hafan Wen detox treatment centre has 25 beds in Wrexham, but 12 of them are commissioned by health authorities in England.
Plaid accused Betsi Cadwaladr health board of "failing to play its part" in dealing with the town's drug problem.
But the health board said the beds only formed part of a person's treatment.
Hafan Wen is near Wrexham Maelor Hospital and is run by the charity Cais.
The health board used to commission all of its beds, but it reduced the number in 2007 as it moved towards more community-based treatment.
Plaid Cymru's group leader in Wrexham, Marc Jones, said the wait for a bed is too long.
He said the problems caused by not having quicker access are "hugely damaging" not only for the people involved, but the wider community which is "having to live with the consequences of this very visible drug problem".
He said given the scale of it, it does not make sense to have a detox service in the town that local people are unable to access.
"Detox is the first step to rehabilitation," he said and called on the health board to invest in long term solutions "rather than maintaining the problem as it is".
A health board spokesman said: "The beds are commissioned as part of an annual budget to provide drug and alcohol services, expenditure of which is discussed and agreed with our partners on the area planning board.
"The number of beds commissioned are part of a wider programme of support for people with drug and alcohol dependency issues and whilst detox is an important step in a patient's recovery, support extends well beyond this as part of a person's journey."