Hoover Dam: Ruthin man fined for stag do swim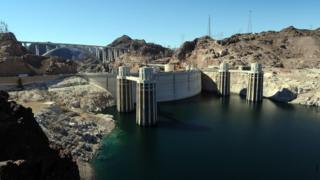 An "adrenalin junkie" from north Wales has been fined by police in America after swimming across the Colorado River at the Hoover Dam.
Arron Hughes, 28, was on a stag do when he took a dip at the dam on the Arizona-Nevada border near Las Vegas.
The forklift driver from Ruthin, Denbighshire, was arrested at the scene and fined $330 (£250).
"We got there and it was absolutely roasting. I thought to myself 'I'm going in for a dip'," he said.
Turbines close to where Mr Hughes was swimming were not on when he was in the water on 8 August.
"The plan was just to go for a little dip at the start and then I thought 'I can make this' so I swam across, I made it from Arizona to Nevada," he said.
"I don't have any regrets. I even have a tattoo saying 'no regrets', that's the type of person I am."
His ticket issued by Nevada police lists the offence as: "Jumping, diving, swimming from dam's spillways or other structures."
Mr Hughes said he did not realise swimming at the landmark was an offence as he did not see any signs.
The Hoover Dam
726ft (221m) tall and weighs 6,600,000 tonnes
Has 17 turbines - nine on the Arizona wing and eight on the Nevada wing
Built between 1931 and 1936
Generates about 4 billion kilowatt-hours of energy every year, enough for 1.3 million people in Nevada, Arizona, and California
Source: Bureau of Reclamation