'Insulting' Flint Castle iron ring plans scrapped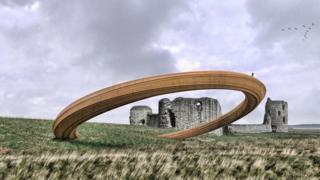 Plans for an "insulting" iron ring sculpture at Flint Castle have been scrapped following claims it symbolised the oppression of Welsh people.
The Welsh Government put plans on hold following a petition and accusations decision-makers were ignorant and disconnected from people's views.
The government will not proceed with two installations, including the ring.
But work on the castle will continue, potentially including an alternative art installation.
The government said there was "some support" from stakeholders for the proposed ring but it acknowledged it had been "divisive".
Flint was one of the first castles to be built in Wales by Edward I - construction began in 1277.
The winning design was selected by a panel following a nationwide competition, and the architects said it demonstrated "the unstable nature of the crown".
But critics, including Plaid Cymru's North Wales AM Llyr Gruffydd, said a sculpture celebrating the conquest of Wales by Edward I was "inappropriate and insulting".