Wrexham man jailed over 'kill every Muslim' Facebook post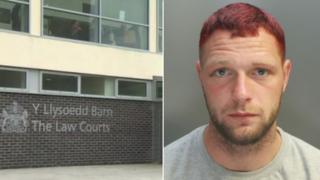 A Wrexham man has been jailed for a year after posting "let's kill every Muslim" on Facebook in the aftermath of the Manchester Arena bombing.
Keegan Jakovlevs, 22, admitting publishing material with the intention of stirring up religious hatred.
Jakovlevs posted the public message shortly after the attack by suicide bomber Salman Abedi, which killed 22 people and injured scores of others on 22 May.
He was jailed at Mold Crown Court.
Judge Niclas Parry told him that racism was evil and that anyone who incited racially aggravated violence must expect severe punishment.
Jakovlevs, of Acrefair, Wrexham, was said to have been under the influence of drink and cocaine when he posted on Facebook that he believed Muslims should be killed and stopped from entering the country.
When challenged he said police should be arresting Muslims, who he alleged were planning bombings in their mosques.
He also told police that if he had the chance he would blow up the mosque in Wrexham.
Judge Parry said the message had the potential of being viewed by more than 2,000 people "who for some reason choose to follow what you say".
It appeared that even in the short period the message was published, before it was removed by Facebook, some 140 people responded positively to the post.
Judge Parry added that the defendant's police interview served only to underline his inherent racism and utter lack of knowledge - but he said Jakovlevs at least accepted that his message could clearly turn other people against innocent members of society.
'Religious hatred'
After the hearing, Sue Hemming, head of the special crime and counter-terrorism division of the Crown Prosecution Service (CPS), said: "After the Manchester attack there were countless messages of support on social media for those affected but Keegan Jakovlevs chose to stir up religious hatred by calling for British Muslims to be indiscriminately killed.
"No harmful consequences appear to have resulted but his intention was clear and he pleaded guilty once he saw the CPS's case against him.
"People should not assume they can hide on social media when stirring up hatred and violence.
"Where there is evidence, the CPS will prosecute them and they will face imprisonment as a result."