Rethink call over homeless help at Wrexham's Groves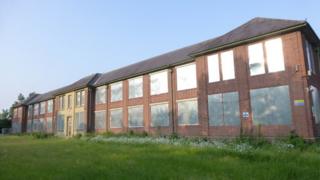 Calls on people to stop giving rough sleepers in Wrexham food handouts is a "mistake", according to the North Wales Police and Crime Commissioner.
Arfon Jones' comments come after the council's deputy leader urged people to stop making donations directly to those staying at the former Groves School.
Councillor Hugh Jones said there were concerns donations were "being sold for drugs".
But the commissioner said the advice could "exacerbate the problems".
Mr Jones said: "I sympathise with councillor Hugh Jones' attempt to deter compassionate individuals from making donations to individual vulnerable persons in case they sell them to obtain money for drugs.
'Psychoactive substances'
"The truth is though that he's missing the point because the nature and power of addiction is such that nothing else matters.
"Their whole energy is focused on getting their substance of choice and they will get it by hook or by crook.
"If they don't have the resource to buy the drugs they, more often than not, will resort to stealing to obtain it.
"And selling donations must be preferable to committing crime."
In March, photographs appeared of people in zombie-like states at the town's bus station after apparently taking psychoactive substances.
Since then, drug users have set up camp at the Groves School, which closed in 2006.
The council previously said it was "tolerating the situation... to prevent other problems arising in other areas".
Councillor Jones suggested "people keen to help the vulnerable to make donations to the charities supporting them".
"I have urged, in the strongest possible terms, that people do not make direct donations to those on the Groves site."
'Not suited'
In response to the commissioner's comments Councillor Jones said: "The advice that I gave to the public was based on advice that I had received from Wrexham Community Safety Partnership, which includes North Wales Police, and that advice still holds good and is supported by all partners."
Commissioner Mr Jones, a former police inspector, believes extending the opening hours of night shelter, Ty Nos, on Holt Road, could help the situation.
Clwyd Alyn Housing Association, which runs 16-bed Ty Nos, said there were no plans to change its hours, partly due to planning permission constraints.
Supported living manager Andy Roberts said: "Operating a day service of any kind would require funding for at least two members of staff on duty at any one time, and we are also concerned that the physical layout of the Ty Nos building is not suited to providing a day service."
Meanwhile, Ty Croeso, purpose built premises located on Grosvenor Road is open in the day and provides help and services including a breakfast club.