Royal Welsh soldiers and goat Llywelyn march into Ruthin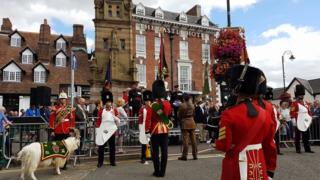 About 130 soldiers from the Royal Welsh paraded through a Denbighshire town to reaffirm the freedom of the county award to the regiment.
They marched through Ruthin on Saturday led by Fusilier Llywelyn, the regimental goat, as well as their band.
Hundreds of people turned out to watch the ceremony.
The freedom of the county was awarded to the regiment by Denbighshire council in June 2011.