Holidaymakers sentenced for Denbigh caravan park fight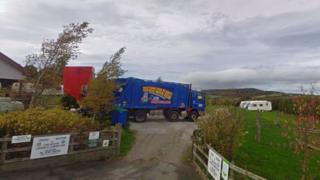 Two holidaymakers have received suspended prison sentences following a fight at a Denbighshire caravan park.
Kerie O'Donnell, 25, from Crewe, and David Hatton, 47, from Liverpool, both admitted affray following the incident at the Cae'r Mynydd caravan park at Saron, near Denbigh, on 22 May 2016.
Mold Crown Court heard a fight broke out after O'Donnell's wife allegedly found him in a disabled toilet with Hatton's wife.
It followed an evening of drinking.
The court heard O'Donnell, a father, followed his wife back to their caravan and told her nothing improper had occurred before setting off to find Mrs Hatton.
A fight broke out between Hatton and O'Donnell outside Hatton's caravan after Hatton confronted O'Donnell with a bottle and a knife.
Hatton suffered a fractured eye socket and other injuries after being knocked to the floor.
The court heard both men were parts of larger groups who went on what should have been a pleasant weekend at a rural caravan site.
O'Donnell received a 45-week prison sentence suspended for 18 months with a £750 fine.
Hatton received a 36-week prison sentence suspended for 18 months with a £500 fine.
Both were ordered to pay £1,250 costs.
Judge Rhys Rowlands said it was a very unpleasant incident, adding: "It is not the sort of thing you would expect to take place in Saron."