Wrexham scrap metal dealer in £51,000 benefits scam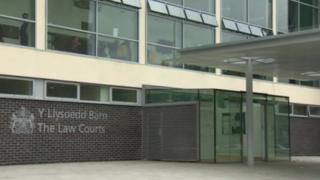 A scrap metal dealer from Wrexham who received more than £51,000 in a benefits scam has been ordered to repay the money.
Mathew Joseph Malanga, of Wrexham, claimed benefits on the basis he was not working - but he was self-employed.
He admitted five charges of benefit fraud at Mold Crown Court.
Malanga, 40, was given a 12-month prison sentence, suspended for one year, and told he must repay £51,226 back in compensation at £160 a month.
The court heard he started claiming incapacity benefit in 2003 and continued to do so for 10 years, despite starting working on a self-employed basis in scrap metal.
An investigation showed that within a 12-month period, £82,000 had been paid into one of two bank accounts which he had not declared.
He spent the money on drugs, drink and gambling, the court heard.
But it was told three years had passed since the offences, he had re-built his life and set himself up in business.
Judge Niclas Parry told Malanga that he had "cheated the public" for six years.