'Unacceptable' care for woman ,75, who died a week later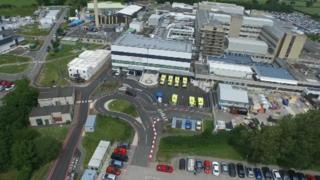 Hospital bosses have accepted nursing care given to a seriously ill pensioner who later died was unacceptable.
The woman, 75, who suffered from chronic obstructive pulmonary disease (COPD) was admitted to Glan Clwyd Hospital, Bodelwyddan, in November 2015, after a fall at home.
Betsi Cadwaladr health board admitted conversations with her family were at times "inappropriate".
A complaint by her son was upheld by the Public Services Ombudsman.
Known as Mr X, he said communication with the family was inappropriate and nursing care was inadequate with the woman, Mrs Y, not treated on an appropriate ward.
Mrs Y fractured her femur and had surgery before being transferred from the high dependency unit (HDU) to an orthopaedic ward, where her family became increasingly concerned about her care.
This related to hygiene - they once found her sitting in her own faeces - nutrition and hydration, and management of her pain medication.
'Given up'
Mr X described having to visit his mother out-of-hours to ensure she was receiving food and drink because she could not feed herself.
He also complained it was difficult to obtain information from staff, some of whom made comments such as Mrs Y "had been spoiled at the HDU" and she had " given up".
Mrs Y developed pneumonia and died a week later, and while COPD was given as the cause at an inquest, a conclusion of accidental death was recorded with a fall a contributory factor.
After an ombudsman investigation, the complaint about nursing care was partly upheld and the complaint about communication was fully upheld, with the board agreeing to pay £250.
"The level of nursing care provided to Mrs Y fell below an acceptable standard, particularly in relation to her nutrition, hydration and hygiene," the ombudsman's investigating officer Llinos Roberts said.
"This undoubtedly compromised Mrs Y's dignity and it is clear that it caused her family great distress."
The health board said the problem has been tackled by appointing doctors from a range of backgrounds to support geriatric patients on orthopaedic wards, with a consultant to lead the service.
It also apologised, saying the level of hygiene care was "totally unacceptable" and staff have now received training in dignity and respect of patients.