Denbigh grammar school site £10m housing plan approved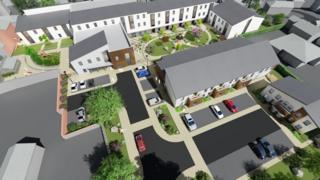 A £10m housing development on the site of a former school has been approved by Denbighshire council.
Grwp Cynefin housing association has been granted permission to build 70 flats on the site of Denbigh grammar school.
The development will consist of 42 two-bedroom and 28 one-bedroom apartments for people with supported-living needs.
There will also be a community living unit for those needing more formal care, and a cafe.
The school was built in 1903, eventually becoming the senior section of Denbigh High School.
It was later used as a further education centre and youth club, but has been derelict for many years.
Phil Gilroy, Denbighshire's head of community support services, said: "Extra care schemes have proved extremely popular, as they allow people to continue living independently in their own homes, with the reassurance that help and support is available 24 hours a day, should people need it.