MP Ian Lucas 'uneasy' over Vauxhall takeover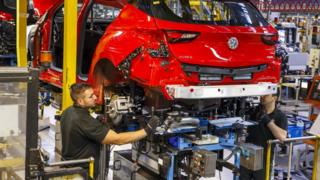 The French company that owns Peugeot and Citroen is to buy General Motors' European unit, including Vauxhall which employs about 300 workers from north Wales at its Cheshire plant.
Wrexham MP Ian Lucas said he was "uneasy" about the takeover and possible implications for the Ellesmere Port factory which employs about 2,200.
The announcement comes amid fears Ford could cut 1,160 jobs in Bridgend.
The Labour MP said both announcements had "created a lot of doubt".
Mr Lucas said Vauxhall's Ellesmere Port plant has "performed extremely well in difficult circumstances, for example the latest Astra is built there when most people thought it would go to either France, Germany of Belgium".
He added: "We know, for the next few years, Ellesmere Port will be OK, it will be producing the Astra but what we have to do now is to continue to make the case for the investment in the automotive sector in the UK and Ellesmere Port."
Investment
GM Europe has not made a profit since 1999 and the deal has raised fears about job losses at Vauxhall.
The UK factories at Ellesmere Port and Luton employ about 4,500 people.
With GM's Opel and Vauxhall operations, PSA Group would become the second largest carmaker in Europe, behind Volkswagen.
"There have been a lot of uneasy announcements concerning the sector which has created a lot of doubt so it's a doubtful situation we are in," Mr Lucas told BBC Radio Wales' Good Morning Wales programme.
The Ellesmere Port plant opened in 1962 and built Vauxhall's Viva, Chevette, Vectra and the Astra.
Mr Lucas said: "This plant has always had to make the case for investment from management from another country.
"And it has been successful. What it must do now with PSA, is make the argument to the French."
PSA said it would return Opel and its Vauxhall brand to profit, and expected to make savings of £1.47bn per year by 2026, with most of the cuts made by 2020.
Prof Peter Wells, of Cardiff Business School, said jobs were likely to go since PSA already had overcapacity across its European plants.