Chirk residents seek legal action over Kronospan dust claims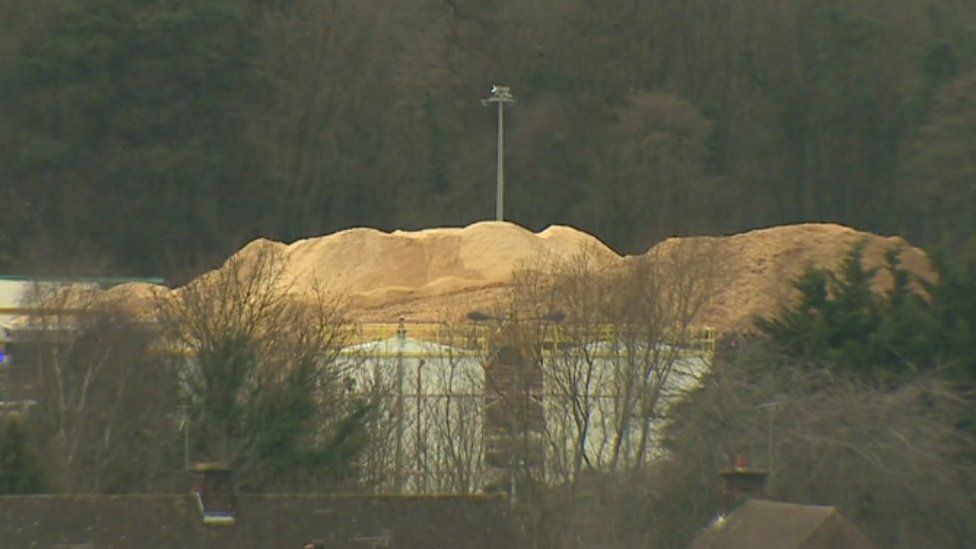 Legal action could be launched by residents who claim they cannot open their windows because of dust emanating from a factory near Wrexham.
A total of 71 families are involved in planned action against Kronospan, Chirk, which manufactures wood panels.
Kronospan said it took its environmental obligations "very seriously".
A drop-in and information session is being held by the families' legal representatives on Thursday.
Resident Suzanne Newell claimed dust regularly covered windowsills, garden furniture and cars.
"Sometimes, if we have a bit of a wind, we can't open our windows," she said.
She claimed that, last summer, her family were having dinner in the garden when a "dust cloud" came into view.
"We had to get the kids in quick [and] leave dinner outside," said Ms Newell.
She said Kronospan, which employs 600 people, made positive contributions to the community but that residents should not "have to suffer" as a result.
The planned action was to show the firm that residents "have had enough", she said.
A Kronospan spokesman said: "We are committed to reducing the impact of our activities on the environment and the local residents and, to that end, we continue to invest heavily in modernising the site so as to secure its long-term future."
The spokesman said it liaised with Natural Resources Wales and Wrexham council to ensure that it complied with its obligations, including continually cooperating with independent monitoring of the air quality in Chirk.
Lawyer Gwen Evans, partner and head of environmental claims at Hugh James, said it was "exploring the potential for an injunction to prevent the continuation of this nuisance in future and to ensure that Kronospan operate the site with due respect to its neighbours and without emitting dust into the neighbourhood".
The drop-in session takes place at Chirk Parish Hall, Holyhead Road, between 13:00-19:00 GMT.