Campaign launched to save Wrexham army unit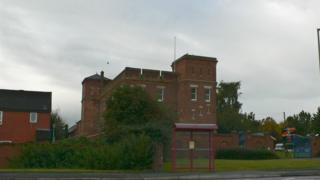 A councillor is urging residents to oppose the potential loss of an army unit from Wrexham's Hightown barracks.
The Army confirmed in January that the 101 Battalion Royal Electrical and Mechanical Engineer (REME) unit is to relocate to Bristol.
Wrexham councillor David Griffiths has launched a petition "to help preserve the town's strong links with the armed forces".
An Army spokesman has said REME is being "reorganised nationally".
Mr Griffiths said: "I hope as many people as possible take the opportunity to sign this petition. Wrexham has an incredibly proud and strong military heritage."
The campaign has been welcomed by Wrexham council leader Mark Pritchard, who encouraged people in the town "to make their feelings known."
An Army spokesman said the battalion would "effectively merge with 105 Battalion" and the unit at Hightown would close.
The barracks have served as a base for armed forces units since 1877.