Army unit in Wrexham will relocate to Bristol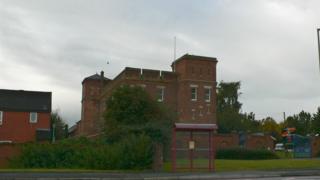 An Army unit in Wrexham is to be relocated to Somerset, it has been confirmed.
On Tuesday, council leader Mark Pritchard said he was "led to believe" the 101 Battalion Royal Electrical and Mechanical Engineer (REME) unit based in Hightown Barracks could relocate to Keynsham.
The Army has since confirmed the move.
A spokesman said the battalion would "effectively merge with 105 Battalion" and the unit at Hightown would close.
Mr Pritchard said he was "shocked" to hear it could go as part of the Army 2020 Refine restructure.
He said: "We are a town with a strong and proud military heritage. We have always worked very closely with our partners at the barracks in Wrexham and we will be hugely saddened to lose this connection."
The council has also set up an online petition to the UK government to retain an armed forces presence in Wrexham.
An Army spokesman said: "The Royal Electrical and Mechanical Engineers (REME) is being reorganised nationally to provide a smaller number of more technical specialists to support the war fighting division.
"101 Battalion REME will effectively merge with 105 Battalion and, as a result, the small battalion headquarters at Hightown will close and its responsibility will transfer to Bristol.
"All personnel affected will be assisted to transfer to the Royal Welsh Regiment who share the reserve centre or other units locally."