Wrexham FC fan trust president Bryn Law resigns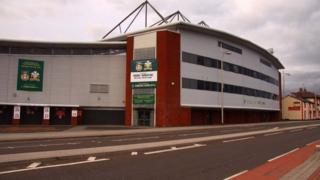 The president of Wrexham FC supporter's trust has stepped down, questioning whether the fans' ownership was good for the future of the club.
Bryn Law posted on social media he had resigned from the role with a "heavy heart" on Friday evening.
In a statement Mr Law said the club was in a "poor state" and performances were short of what fans deserved.
Wrexham Supporters' Trust, which took over the club in 2011, has been asked to comment.
Wrexham lie 15th in the National League - the fifth tier of English football - with only nine wins in their 28 games so far this season.
They face North Ferriby United at the Racecourse on Saturday.
Mr Law wrote in his resignation letter: "I remain a supporter of the trust ideal, the notion of the fans being the best people to run football cubs, however I am now beginning to wonder whether it is working in the best way for the betterment of our club?"
Mr Law, whose presidency role has no involvement in the running of the club, said he had great pride in what the Trust had achieved.
"We all want the very best for the club we love, as we know, Wrexham is for life," he wrote.
The trust board signed a deal to take on the 99-year lease for the Racecourse Stadium last year.