Longer drinking hours at Mold Alex FC despite opposition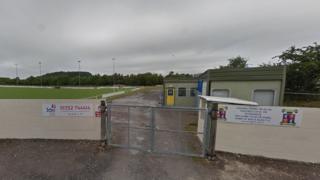 A Flintshire football club will be allowed longer drinking hours despite opposition from people living nearby.
Flintshire council's licensing committee has agreed the extension to the alcohol and entertainment licence at Mold Alex FC.
The clubhouse will now be able to open from 09:00 to 23:00 GMT Monday to Thursday, midnight on Friday and Saturday and 21:00 on Sunday.
Residents had written to Flintshire council to oppose the application.
They had voiced concerns about noise and possible anti-social behaviour in and around the clubhouse.
The club said it had plans to ensure its neighbours were not affected and councillors have now allowed the application.
Previously, the clubhouse hours were Monday to Thursdays 13:00 to 23:00, Friday and Saturday 11:00 to 23:00 and Sunday 11:00 to 17:00.