Appeal to fix Wrexham's Bersham Colliery miner statue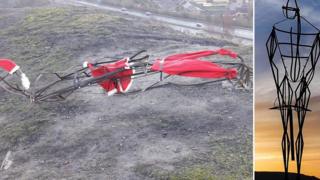 An artist has appealed for help to restore a damaged steel sculpture on a Wrexham colliery waste heap.
The 12ft (3.6m) figure of a miner was created by Ian Walton at the former Bersham Colliery, near Rhostyllen, which closed 30 years ago.
It has been hit by bad weather and suspected vandalism, leaving it lying near the ground.
Mr Walton said he needs welding equipment which can be used on the 150ft (45m) high heap.
The artist said he went to the site a few weeks ago and the statue - designed to remind people of the sacrifices of those in the mining industry - was leaning back "quite badly" with a number of broken welds.
"He's on the ground now and we need to get him upright again," Mr Walton said.
"The problem is that it is high up on the top of the slag heap and you just can't just run a lead up there and use an electric welding kit.
"I need a small gas welding kit or a small generator welder to sort it."