Rhyl's Boxing Day Dip takes place 24-hours late after storm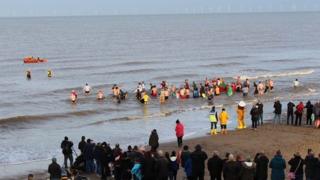 About 50 people took to the waters as Rhyl's annual Boxing Day Dip was held 24-hours later than usual because of bad weather.
Rough seas meant the Denbighshire swim was put back from Monday to Tuesday.
The event - held to raise funds for Rhyl's RNLI station - started with the setting off of rocket fireworks before participants rushed to the water.
People in fancy dress costumes included men dressed as Elvis, elves and other popular characters.