Wrexham man threatened paramedics and damaged ambulance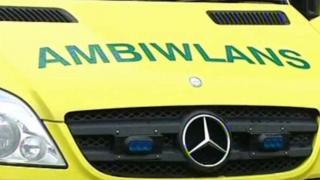 A man who woke up to find he was being treated by paramedics smashed up the ambulance, a court heard.
Ian John Taylor, 28 from Wrexham, threatened the paramedics, hurled items around the vehicle and tried to let the brake off.
During a special Christmas Eve hearing at Flintshire Magistrates' Court, Taylor admitted causing £1,000 of damage at Crescent Close on Thursday.
He was bailed to be sentenced on 30 December at Wrexham Magistrates' Court.
Two paramedics locked themselves in the back of the ambulance and another went into another vehicle for safety, the court was told.
Taylor said he could not remember the incident.
He admitted using threatening, abusive or insulting words of behaviour with intent to cause them fear of violence, and causing £300 damage to guttering at his home, owned by Wrexham council.
The prosecution said Taylor has previous convictions for 60 offences.
Emma Simoes, defending, said Taylor had mixed alcohol with his prescribed medication and he had also taken a legal high.