Parry's Christmas card travels about 600,000 miles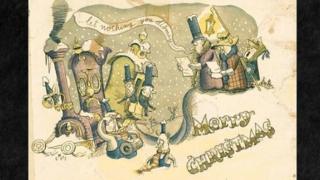 A family split between Wales and Australia has been sending each other the same Christmas card for more than 60 years.
Elspeth Parry, from Mold, Flintshire, reckons the card has travelled thousands of miles since the tradition began in 1949.
Her parents continued to pass the card back and forth with her aunt and uncle after they emigrated in 1953.
And Ms Parry and her cousin have continued the tradition.
Wales is about 9,500 miles (15,288km) from Australia, meaning the card could have travelled more than 598,500 miles since 1953.
Royal Mail has been showcasing online a series of festive letters like the Parry family card as part of its Letters of Our Lives campaign.
Ms Parry told the Daily Post the card was now a "little fragile but we do try and look after them".
Royal Mail director David Gold said: "These letters give us a brief insight into the festive celebrations of times gone by."